ALL TOOL BOXES
Montezuma Toolboxes® Portable Toolboxes, Roller Cabinets,
Tool Boxes, & Tool Chests
---
So much more tool space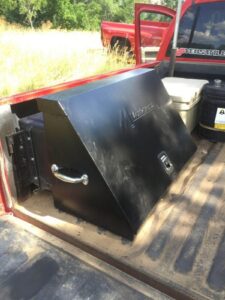 Overall very satisfied with the toolbox. I ordered the 36″ and 26″ and they arrived very quickly. I bought the 36″ as an upgrade from my 30″ I had been using for 6 years in my service pickup The biggest reason for the upgrade was to have space for metric wrenches and sockets required for our newer farm equipment. The toolbox fits all the tools and I had along with room to spare. I ended up having to buy more sockets and wrenches to keep it from looking empty. The tool box itself isn't quit as heavily built as my old 30″ but does seem pretty durable. The only downside to this tool box is that it doesn't have the slide over lock like my old box but instead has a gas cylinder. The 26″ was purchased to put up against the headache rack on a pickup with a bale bed to do quick repairs without needing to get out the service pickup.
tmont from Almena, KS
---
---
---