ALL TOOL BOXES
Montezuma Toolboxes® Portable Toolboxes, Roller Cabinets,
Tool Boxes, & Tool Chests
---
AWESOME Road Box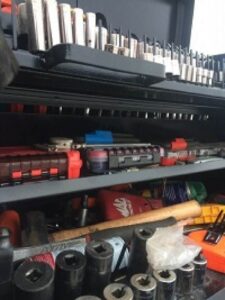 I am a first time buyer of the Montezuma LA400 toolbox, but I will definitely be a repeat customer. I had always loved my Snap-On toolbox in the shop but it was not easy to "gather" tools and head to a job site. I looked at road boxes from Mac, Snap-On… but couldn't justify the price for what you got. I knew about the Montezuma boxes but never looked at one. As I researched they had everything I was looking for, so I bought the 30″ LA400 for SAE and metric. I couldn't be happier. Guys at work have used tools from my box over theirs because its easier to access and everything is right in front of you. I can pull out tools and put them back in half the time as a normal tool box. So much organization, and SPACE! Someone put a lot of thought into designing, but yet so simple. I have crossed paths with many people who inquire about the toolbox, all have been impressed and complimented it. I have owned the tool box for 4 months, the new shiny paint has a few scuffs, so I am not giving it a great review because I have an impulsive "this is great, its new" feeling. The toolbox rides around on a pick up at multiple sand and gravel pits that our company operates and seems to stand up to sand snow rain and rough roads no problem. We have multiple trucks, so when those tool boxes are due to replace, we will most likely put Montezuma's on them. Also want to give a shout out to the guys at Strictly tool boxes. They were very helpful in making sure I got the right product for the application I was looking for. Super fast communication and shipping also. Overall A+ experience!
Big Boy
---
---
---