Freight Inspection Instruction Center
The most important step in receiving your tool box is the inspection process. The inspection process will ensure that all items in your shipment are in perfect condition before signing the driver's bill of lading, waiving the liability from the freight carrier. Please select the tool box model below that closely matches your shipment for detailed packaging removal and inspection instructions.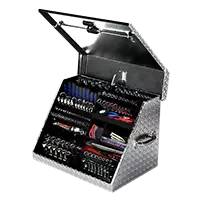 Portable toolboxes typically ship Ground and will need to be inspected within 24 hours of delivery.
There is no delivery appointment when your portable box is shipping Ground.
You have 24 hours from the time of delivery to remove all packaging material and inspect your ground shipment for damage. If you find damage, you must report the damage to StrictlyToolboxes.com at 888-289-1952.
TOOL VAULT INSPECTION INSTRUCTIONS